It's that time of year again... Cork Jazz Festival is back and the line-up this year doesn't disappoint. The highlight for me has to be the Honest Jon's Chop Up. I have no idea what kind of music will come out of throwing all those creative souls together but on paper it looks like music history in the making. I'm excited.
I could waffle on and on about all the artists performing in Cork over the weekend, but to be honest it sounds a little too much like work. Go check out the full line-up here and save me the bother. http://guinnessjazzfestival.com
No theme to this months mix really, just over an hour of decent 7"s. A lot of funk, breaks, some disco, blues and so on. Regular listeners will be heart broken to hear I didnt bother with the mic this month. It's a bit of a chore to set up and pretty much everything I want to say about the records gets written on the blog anyway. The whole exercise has felt a bit pointless lately. So, for now at least, the golden voice is off the air!
Be sure to check back next month as we'll be celebrating a full year of LittleThingsRadio. wayhey! I suppose I should do something different to mark the occasion, haven't decided exactly what that'll be yet, but it'll be good... I think.
Tracklist...
The Mystic Moods - Midnight Snack (Sound Bird)
Black Heat - Chip's Funk (Atlantic)
Timmy Thomas - People Are Changin' (Glades)
Johnny Copeland - I Wish I Was Single (Wet Soul)
Procol Harum - A Whiter Shade Of Pale (Deram)
Minnie Ripperton with Rotary Connection (Janus)
Barbara McNair - Here I Am Baby (Motown)
Mable John - It's Catching (Stax)
The Dells - Wear It On Our Face (Cadet)
Dramatics - The Devil Is Dope (Volt)
The Lost Generation - Talking The Teenage Language (Brunswick)
The People's Choice - Let Me Do My Thing (Phil L.A. Of Soul)
Ann Peebles - If This Is Heaven (Hi)
The Nite-Liters - Down And Dirty (RCA)
Mandrill - Fencewalk (Polydor)
Mandrill - Mandrill (Polydor)
Alvin Cash and the Scott Bros Orch - Keep On Dancing (Toddlin Town)
The Chevelles - The Gallop (Flaming Arrow)
Kool and the Gang - The Frog (DeLite)
Mongo Santamaria - Cold Sweat (Columbia)
Jimmy McGriff - The Worm (Solid State)
Rogier Van Otterloo - Let's Go To Randstad (Randstad Uitzendbureau)
Miami feat. Robert Moore - Party Freaks (Drive)
Shadow - Hot City (Elektra)
First Choice - Guilty (Philly Groove)
Vicki Sue Robinson - Turn The Beat Around (RCA)
Download Link...
http://www.megaupload.com/?d=0EZEFYW1
Miami feat. Robert Moore - Party Freaks
As the house band for T.K. Records Miami played many classic sessions with artists such as Betty Wright, George and Gwen McCrae, Little Beaver and more. They also released three very decent albums of disco funk themselves.
Jimmy McGriff - The Worm
Jimmy Mcgriff was one of the masters of the Hammond B3 organ. Over his long career he recorded over 50 albums for labels such as Blue Note, Groove Merchant, Sue and Solid State. "The Worm", one of McGriff's funkier moments, includes a nice opening drum break that has been sampled extensively.
Mongo Santamaria - Cold Sweat
Mongo Santamaria was a highly influential Cuban percussionist who has recorded over 30 albums of his own and played on countless others. His fusion of Latin percussion sounds with American Soul and R&B would be an important influence on the Boogaloo sound of the late 60's.
"Cold Sweat" is of course a cover of the James Brown classic. The b-side features nice version of Otis Redding's "Sitting On The Dock Of The Bay"
Rogier Van Otterloo - Let's Go To Randstad
This one is 70's Dutch pop music with some really nice drum breaks. I picked this up a few years back in Amsterdam. Me and a friend of mine were walking around the city and ended up browsing in one of those headshops. I saw a small box of records at the back of the and had a quick look through them. There wasn't much there I was interested in except for a copy of Lee Dorsey's "Every Thing I Do Gohn Be Funky". When I went to pay for it the guy behind the counter pulled out a bunch of 7"s he thought I might be interested in. Ended up leaving with a small stack of really nice funk records. He threw in this Roger Van Otterloo 7" for free. I asked him what type of music was on it. "Kinda hard to explain" he said. "I think you'll like it. It's got breaks." Good enough for me.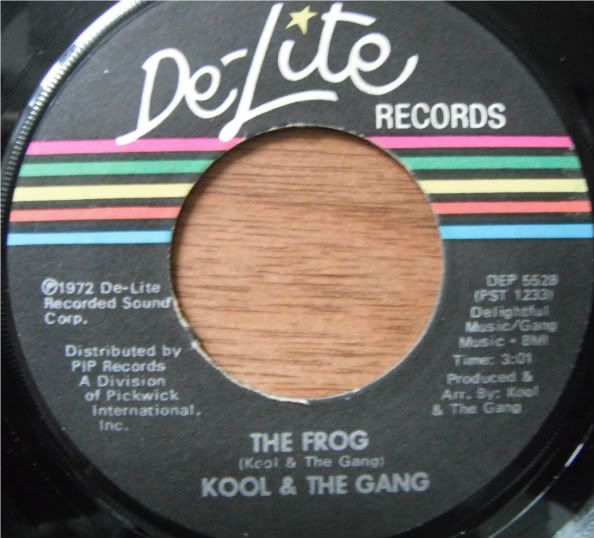 Kool and the Gang - The Frog
Tribe Called Quest must have loved a bit of Kool and the Gang. "N.T.", "Who's Gonna Take The Weight", "Soul Vibration's" all found their way into Tribe productions. "The Frog" was one of the records used for "Mr. Mohammed" from Tribe's classic debut LP, "People's Instinctive Paths Of Rhythm"
Alvin Cash and the Scott Bros Orch - Keep On Dancing
Alvin Cash is probably best known for his song "Twine Time" with the Crawlers. He released quite a few decent singles in the 60's and 70's and acted in several blaxpioitation films.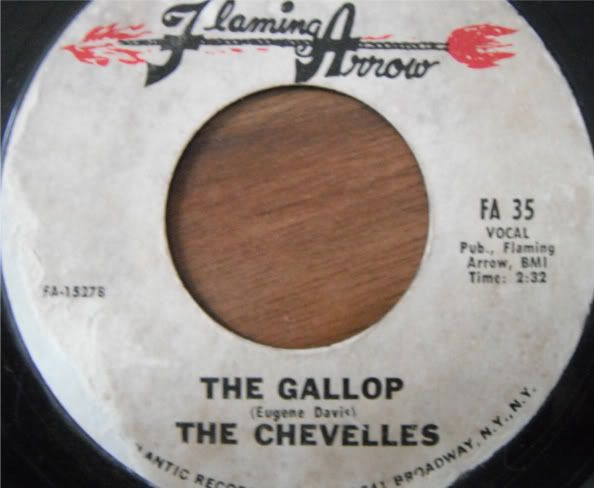 The Chevelles - The Gallop
Heavy instrumental funk. This can be found on the b-side of Gloria Walker and the Chevelles' "Talking About My Baby".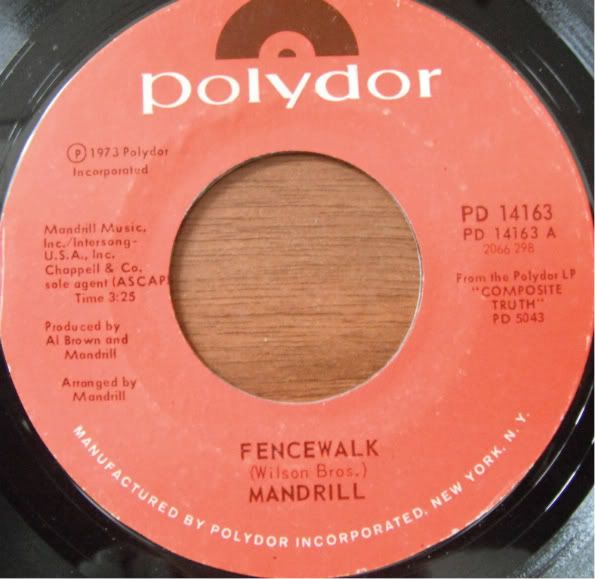 Mandrill - Fencewalk
Mandrill's music had it all. Funk, Latin, Rock, Afrobeat, Jazz... Their fanbase crossed all genres and racial barriers. They felt equally at home playing shows with James Brown or Miles Davis or Deep Purple. It didn't matter. They'd play with anyone, and would often be the band people left the show talking about. For more info check out this in depth interview on the Midnight Soulstice Podcast
http://midnightsoulstice.podbean.com/2010/12/06/live-interview-with-mandrill-february-27th-2009
The Nite-Liters - Down And Dirty
70's funk outfit The Nite-Liters released 5 very solid albums in the early seventies and were involved in the making of two albums by Love, Peace and Happiness. Some members were also part of the successful soul group New Birth.
Shadow - Hot City
Shadow was made up of former members of the Ohio Players in 1979. By the time they split ways 1982 they had released three albums, which included some minor hits, but they would never match commercial success they enjoyed as the Ohio Players.
Black Heat - Chip's Funk
This was one of the singles from Black Heat's excellent self titled debut on Atlantic records. The b-side features "Street Of Tears" which was sampled to great effect by 9th Wonder for his Murs collaboration "3:16"
Johnny Copeland - I Wish I Was Single
Blues singer and guitarist Copeland signed his first recording contract with Duke records way back in 1957. Throughout his long career he played with many of the greats including Sonny Boy Williamson, Big Mamma Thornton and Freddy King.
"I Wish I Was Single" is one of Copelands later recordings (1981). While many Blues legends found it difficult to find their place in the changing music industry of the 80's, Copeland managed to thrive. He recorded several critically acclaimed albums and even won a Grammy in 1987 for Best Traditional Blues Album for his work on the "Showdown!" LP recorded with Robert Clay and Albert Collins.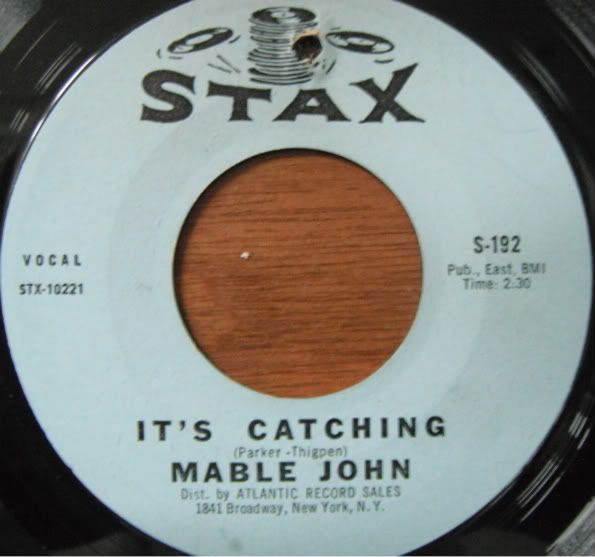 Mable John - It's Catching
Mable John was the first female artist signed to Tamala/Motown Records. She recorded a few Blues singles for the label that sold poorly. At this time Berry Gordy was beginning to have a lot of success with the type of Soul acts the label is generally associated with, such as the Miracles and the Marvelettes, and most of the Blues artists (Mable included) were dropped.
After her spell at Motown she spent several years as a backing singer for Ray Charles. In 1966 she signed with Stax records (making her one of the few artists to be signed to both Motown and Stax) where she released a string of excellent 45's that these days are all too often overlooked.
Barbara McNair - Here I Am Baby
McNair's career began to take off when she won Arthur Godfrey's "Talent Scouts" tv show which I guess was something like a 50's version of X Factor. From there she became a regular guest on shows like the "Steve Allen Show", "Hullabaloo" and "The Bell Telephone Hour".
She went on to have a successful acting career featuring on television shows such as "Mission Impossible" and "The Eleventh Hour" and many feature films such as "If He Hollers Let Him Go", Elvis Presley's "Change Of Habit" and "They Call Me Mister Tibbs" (which features a kick ass Quincy Jones soundtrack that's well worth tracking down).
In the early 70's McNair married manager Rick Manzie who allegedly had mob ties. In 1976 Manzie was murdered in their Las Vegas home. Later Mafia Boss turned Government informer Jimmy Fratianno claimed in his book "The Last Mafioso" that Manzie was murdered because he tried to have a mob associated lawyer killed. The truth of this has been challenged and chances are we'll never know the full story.
McNair remarried and lived out the rest of her life in Los Angeles. She died of throat cancer in 2007.