Download Link...
http://www.megaupload.com/?d=S7TVZGY9
Tracklist...
CBS Trumpeteers - Milky White Way (Nashboro)
Billy Preston - My Sweet Lord (Apple)
The Glass House - If It Ain't Love, It Don't Matter (Invictus)
Young Holt Unlimited - Soulful Strut (Brunswick)
The Three Sounds - Still I'm Sad (Blue Note)
Erma Franklin - Change My Thoughts From You (Brunswick)
Gloria Taylor - Poor Unfortunate Me (King Soul)
Jimmy Ruffin - Baby I've Got It (Soul)
The Peoples Choice - On A Cloudy Day (Phil L.A. Of Soul)
Tyrone Davis - In The Mood (Columbia)
Lowrell - Mellow, Mellow, Right On (AVI)
Quincy Jones - Body Heat (A&M)
Kool And The Gang - Summer Madness (De-Lite)
Mykal Rose - Let Your Love (Blood And Fire)
Yellow Man - Nobody Move/Two to Six (Volcano)
Dennis Brown feat Freddy McGregor - We All Are One (Diamond Rush)
J. Rawls presents The Liquid Crystal Project - A Tribute To TROY (Turntable Jazz)
Koushik - Untitled (Stones Throw)
Rae and Christian - Flashlight (Treacle/Azuli)
Skyy - High (Salsoul)
S.O.S. Band - Take Your Time, Do It Right pt1 (Tabu)
Eastside Connection - You're So Right For Me (Disco 1)
The Brooklyn, Bronx, and Queens Band - On The Beat (Capitol)
D Train - You're The One For Me (Epic)
Freda Payne - Unhooked Generation (Invictus)
Betty Wright - He's Bad, Bad, Bad (Alston)
Bobby Bland - You're All I Need (Duke)
The Rolling Stones - Miss You (Rolling Stones)
Big Black - Long Hair (UNI)
Led Zeppelin - Whole Lotta Love (Atlantic)
Bohannon Band - Save Their Souls (Dakar)
The Village Soul Choir - The Cat Walk (Direction)
The Delfonics - La La Means I Love You (Philly Groove)
Cannonball Adderley Quintet - Hummin' (Capitol)
Bobby Caldwell - Coming Down From Love (Clouds)
There's a certain satisfaction in finding a record you love from a genre you're not usually looking for. Gospel music from the late 50's for example, is not something I'm actively checking for, so when I stumbled on the CBS Trumpeteers record below I knew I had found something unlike any other record in my collection. Its through these chance discoveries that our tastes in music evolve. 5 years ago I wasn't really looking for Jazz or Disco records, 10 years ago I rarely ventured outside of the Hip Hop bubble I lived in at the time. Who knows what direction my musical tastes will take 5 years from now.
Its strange, but somehow the more records you buy, the more records you realise you need to have. Its endless. We don't live long enough to listen to half of the amazing music thats out there, much less own it. And thank God for that. How shit would it be if one day you woke up and simply had all the records, and you were left to find something else to obsessively collect, like stamps or Star Wars action figures? Original Chewbaccas still in the box and all that. I suppose I shouldn't judge. Especially since I would actually love to own one of those MF Doom action figures with the little MPC. I'd like to think I'd draw the line at actually playing with the thing, making it dance around to my madvillian records etc. but i could make no promises on that..
This months show is a little longer than usual at a full 2 hours, and I finally got myself some proper heavy weight adapters so I was able to make a bit more of an effort with mixing etc. Also, some people were having trouble downloading last months mix so its been re-uped. New link here... www.zshare.net/audio/86956612252c6ead/
The CBS Trumpeteers - Milky White Way
The CBS Trumpeteers first recorded "Milky White Way" in 1947. It was one of the first Gospel records to enter the Billboard R&B charts. They recorded the song again 12 years later, this time with a light rhythm section. It was once again a hit. This is the version featured here. A year later Elvis Presley would record a rather dull version of his own. Apologies to the "Elvis Is God" brigade.
Bobby Caldwell- Coming Down From Love
Singer, songwriter, and multi-instrumentalist Bobby Caldwell is officially "the white singer most often mistaken for an African American." During the promotion of his first album his record label went to great lengths to hide his little race secret. Of course once he started touring the cat was out of the bag.
The B-Side to this 45 is the brilliant "Open Your Eyes" as sampled by Dilla for Common's "The Light." Ive been playing that tune for years and to be honest, I'm rather sick of it, so I decided to go with "Coming Down From Love" this time around.
Led Zeppelin - Whole Lotta Love
Led Zeppelin didn't release singles in their native UK as they preferred their music to be appreciated as a full work in album form. Although this didn't stop them from releasing 7"s in any other country that they had a following in.
"Whole Lotta Love" was heavily influenced by Muddy Waters' "You Need Love". So "influenced" that the songwriter Willie Dixon actually sued Zeppelin for plagiarism. Dixon isn't credited as a songwriter on this 7" but he is on later pressings. Zeppelin often get criticised for their tendency to borrow licks and lyrics from songs they loved. As a hip hop fan I don't really have a problem with it, but thats an argument for another day.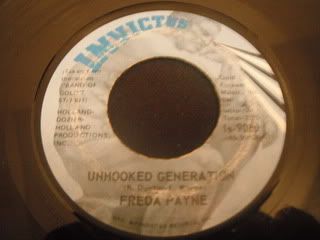 Freda Payne - Unhooked Generation
Freda Payne is best known for her hit "Band Of Gold" but she released many albums throughout the 60's and 70's before she decided to focus on acting. She appeared in several films and broadway musicals and even had her own talk show called "Todays Black Woman".
The 7" of "Unhooked Generation" has an alternate mix to the album version, the main difference being some background vocals are left out of the 7" version. Hip Hop heads will recognise the intro from J.V.C. Force's "Strong Island" which also sampled Freda Payne's "Easiest Way To Fall"
Bobby Bland - Your All I Need
Bobby Blue Bland is a legend of the soulful blues sound. With a career spanning 60 years, his back catalogue is untouchable. Known for his deep gravelly voice and emotional delivery, Bobby Bland simply epitomises the Blues. "Your All I Need" was released in 1966 on the Duke label where Bland recorded many classic records over a ten year period. This 45 is backed with the dark ballad "Deep In My Soul"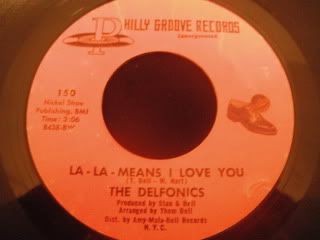 The Delfonics - La La Means I Love You
This one was a big hit for the Delfonics when it was released in 1968. The song would find a new following in the 90's through it's use in films like "Jackie Brown" and "Crooklyn" as well as its use as a sample source in hip hop. Ghostface's "Holla" was an interesting example since he didn't loop part of the track, but simply rapped over the whole song almost untouched. Only Ghostface..
Young Holt Unlimited - Soulful Strut
Eldee Young and Isaac (Red) Holt were both members of the Ramsey Lewis Trio before breaking away to form the Young Holt Trio in 1966 with pianist Don Walker. After one album Walker was replaced with Ken Chaney, and the band was renamed the Young Holt Unlimited.
The group released 9 albums in just 6 years. The music was in the same vein as the material they produced with Ramsey Lewis. Jazzy, piano lead covers of popular songs of the time as well as some originals.
"Soulful Strut" was the instrumental track for label mate Barbara Acklin's "Am I The Same Girl", but the label liked the song as an instrumental so much they decided to release it 3 months before Acklin's vocal version. "Soulful Strut" would be YHU's biggest hit. They went on to record a couple other versions of the song with "Just a Melody" and "Young and Holtful". If it aint broke...
Gloria Taylor - Poor Unfortunate Me
Very little info online about Gloria Ann Taylor but everything I've heard by her has been amazing. She released several 7"s in the late 60's and early 70's for the King Soul, Silver Fox, and Columbia labels. If you come across anything by her just buy it.
J. Rawls presents The Liquid Crystal Project - A Tribute To T.R.O.Y.
Live bands remaking hip hop classics has been a bit of a trend these last few years. Groups like El Micheals Affair have been taking sample based hip hop songs from the 90s and making them "live" all over again. Its almost like sampling in reverse!
This is the Liquid Crystal Projects jazzy interpretation of Pete Rock and C.L. Smooth's T.R.O.Y. I put this track on the first mix I did for the ChopShop Podcast a few years back which can still be heard here..
Take some time to check out the other mixes in the series. There's not a bad mix on there. They have a great blog going too..
Cannonball Adderley Quintet - Hummin'
The live version of "Hummin" from the "Country Preacher" album has been sampled numerous times by the likes of Tribe Called Quest, 3rd Bass, and the Large Professor. The track featured here is a studio version only available on 7" but it is missing some of the energy heard on the live version. The album version begins with some crowd participation as the audience claps along with the snare giving it the snappy but heavy sound that has attracted so many producers.