Tracklist...
Delia Gartrell - See What You Done, Done (Hymn No. 9) (right-on)
Rotary Connection - The Weight (cadet/concept)
Rufus Thomas - Love Trap (stax)
The Del Vikings - Keep On Walkin' (jo jo)
Kool And The Gang - Dujui (de-lite)
The Chi-Lites - You Don't Have To Go (brunswick)
Marvin Gaye - I'll Take Care Of You (tamla/motown)
Barbara Mercer - Hey!! (golden world)
Pat Lundy - Another Lovin' Kind Of Feeling (de luxe)
Little Royal and the Swingmasters - Razor Blade (tri-us)
Cal Roberts - International Funk (magic minstrel)
Joe Cocker - Black-Eyed Blues (a&m)
Pink Floyd - Money (harvest)
King Hannibal - The Truth Shall Make You Free (stateside)
B.W. Souls - Marvins Groove (round)
Deodato - I Shot The Sheriff (mca)
Native - Mother Country (pressure sounds)
Taggy Matcher - Rappoors Delaaght (stix)
Oh No - Untitled (stones throw)
Lefto - Come 2 U Live Edit (melting pot)
Wavelength - Funk Dreams (glydezone)
Muhsinah feat. Flying Lotus - Lose My Fuse (all city)
Eric B and Rakim - Follow The Leader (mca)
Harlem River Drive - Need You (arista)
Gino Soccio - Try It Out (celebration)
Silver Convention - Get Up And Boogie (That's Right) (midland international)
Download Link...
http://www.megaupload.com/?d=DAH1WP55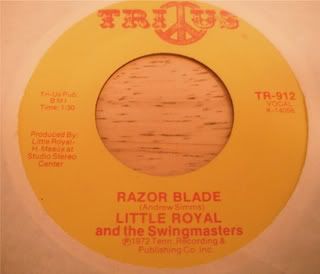 Little Royal and the Swingmasters - Razor Blade
Little Royal's "Jealous", sold pretty well when it came out in 1972, but its the instrumental, break-laden b side that get the attention these days. Its a feel good funk track with some seriously slick horn arrangements, and of course, the bass solo that has been attracting break collectors for years.
Vocalist Little Royal Torrance decided to sit this one out, leaving the song as an instrumental, but 3 years later a singer by the name of Sebastian would use "Razor Blade" as the backing track for his single "Living In Depression".
B.W. Souls - Marvin's Groove
It seems like every major blog with an interest in classic funk 45s has written a few words about this record, all saying about the same thing.. that they don't know much about it. No one knows who played on it, where the group were from, and there doesn't seem to be any other releases by the B.W. Souls, at least not by that name.
All we know is that it was released in 1970 on the California based record label Round and was written by someone named Marvin Brown. The 45 used to regularly sell for 30 to 50 Dollars until a load of them turned up in some warehouse and met the demand. Now what you have is a great funk 45 on a semi-obscure label with all the mystique of a rare but without the high price tag... and did I mention the breaks?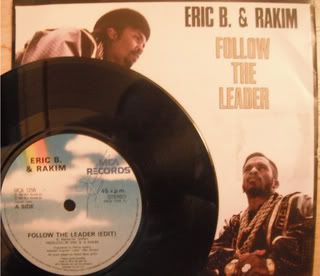 Eric B and Rakim - Follow The Leader
Rakim is one of the greatest rappers of all time. This has never been disputed, nor should it be. There is a huge amount of literature out there on the subject so there's really no need for me to explain any further here. What I will write about is how excited I am at the prospect of finally seeing one of my all time favorite Hip Hop artists in the intimate venue that is the Pavillion. On the 4th of May, Rakim will perform his hugely influential 1987 debut album "Paid in Full" in its entirety as well as a selection of his other classics which will hopefully include the menacing, up-tempo, banger featured here.
I've heard nothing but good things about the live show and rumor has it he's pretty nice on the turntables too! Tickets are on sale now and I'd imagine they'll sell out pretty quick, so get on it to avoid the disappointment of missing what will more than likely be the hip hop gig of the year in Cork.
On a side note, disco fans might be interested to know that "Follow The Leader" was engineered by none other than Patrick Adams.
Wavelength - Funk Dreams
When I first listened to this 7" in my local record shop my first thought was that someone is biting Dam Funk's style hard. It was still a great record so I bought it regardless. It wasn't until I got it home and and read the small print that things started to make sense. The "produced by D-F" was a dead give away that this was not just a really good Dam Funk impression but was in fact the man himself recording as Wavelength (probably for legal reasons). Dam has had more than his fair share of biters over the last few years but at the end of the day no one does that futuristic g funk sound quite like him.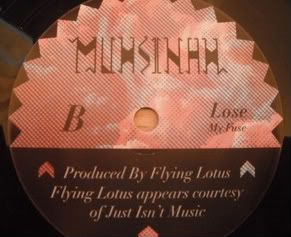 Muhsinah feat. Flying Lotus - Lose My Fuse
If there has been anyone more influential in electronic music over the last few years than Dam Funk it has to be Flying Lotus. His L.A. album brought worldwide attention and acclaim to the experimental beat sound which had been bubbling under the surface and gaining momentum for a couple years.
Here Fly Lo is teamed up with the insanely talented Muhsinah who's been getting a lot of attention with her forward thinking soul sound. She's an incredible singer, a classically trained pianist, an accomplished producer and songwriter, and rumor has it she can walk on water and is immortal.
Basically this is a match made in musical heaven, brought to us by the good people at All City Records in Dublin.
While Motown was of course the most beloved and influential soul and R&B label in Detroit (and arguably the world) they weren't the only shop in town. Golden World Records and their subsidiary labels Ric-Tic, Wingate and J&W produced a huge amount of memorable soul music throughout the 60s and 70s scoring many pop hits.
Ed Wingate was an early partner with Berry Gordy in Motown but after a few years decided break away to create his own label with business partner JoAnne Brattan. And so Golden World was born.
Through building their own state of the art studio they were abel to produce a a professional sound that was distinguishable from any other studio in Detroit. As JoAnne Brattan says, "We didn't know what sound we wanted, we just knew we didn't want the Motown sound."
Many of the greatest musicians, songwriters and producers in soul music would work for the label at some stage, sadly the only piece of this incredible history I own is the Barbara Mercer 45 featured here (my collection has never felt so small). I don't know a whole lot about Mercer, other than she released three 7"s for Golden World and later recorded the brilliant "Call On Me" for the Sidra Label.
Production on "Hey!!" is credited to Burg n' Beans. Its unknown exactly who that was but apparently there was a restaurant across the street from the studio by the same name.
There is much more to the Golden World story, those interested should head over to SoulfulDetroit.com where they have an in depth history of the label and the incredible artists who recorded for them.
King Hannibal - The Truth Shall Make You Free
James Shaw or the Mighty Hannibal (he wouldn't introduce King to his name until the 70s) began his career in Atlanta way back in 1954 with a group called the Overalls. In 1958 he moved to L.A. to further his career. He signed with the Concept label where he released a couple singles as Jimmy Shaw.
In 1959 he adopted the Hannibal name and cut a couple singles for the Pan World label before signing with King in 1962.
This was also around this time he began making extra money as a pimp. He was eventually dropped from King as a result of this. Apparently in 1964 pimping wasn't as marketable as it is today.
Hannibal returned to Atlanta where he continued to release music on the Shurfine label. In 1966 he recorded his best selling single and the song he's probably most remembered for, "Hymn No.5". It's a heart breaking gospel ballad sung from the perspective of a soldier in Vietnam writing home to his family. Few musicians were taking an anti-war stance in 66 and the song was quickly banned from many radio stations.
While Hannibal's career was taking off his personal life was falling apart. He became addicted to Heroin and was sent to prison for 18 months for failing to pay his taxes. Thankfully he managed to kick his drug habit in the early 70's.
It was then that he replaced the Mighty in his name with King and recorded the anti-drug song featured here
. The song was originally released on the Aware label but the record pictured is a New Zealand pressing on the Stateside imprint. Although "The Truth Shall Make You Free" and "I'm Coming Home" are amazing songs, the 70's were not good to Hannibal musically. He began to do some work as an actor, but that never really took off, and in the late 70's he took a job as the entertainment editor for the Atlanta Voice newspaper.
It wasn't until the release of his 1998 album "Who Told You That" and a compilation of his earlier work in 2001,
that his music career began to take off again.
Sadly Hannibal lost his eyesight to glaucoma in 2002 but he continues to perform and record music to this day. He was also the subject of a recent documentary that I'm hoping will get a proper release soon.
Another fun fact that will lead us nicely into our next feature... Hannibal is married to soul singer Delia Gartrell.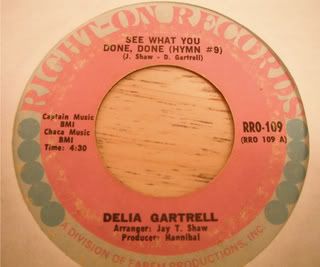 Delia Gartrell - See What You Done, Done (Hymn No.9)
This song is sung from the perspective of a Mother criticising the Government when her only son returns from Vietnam addicted to drugs. The song was co-written by Gartell's husband Mighty Hannibal so its possible this soldier was intended to be the same man who wrote home to his family in Hannibal's 1966 classic "Hymn No.5" The use of Hymn in the title seems to suggest this.
The song was originally released on the Demin-Kalo label but sold well enough to warrant a second release on the New York based Right-On imprint. Delia, who also recorded as Dee Dee Gartrell, released several singles in the late 60's and early 70's but has since given up recording music. She did however co-write most of the songs on her husbands above mentioned 1998 album "Who Told You That."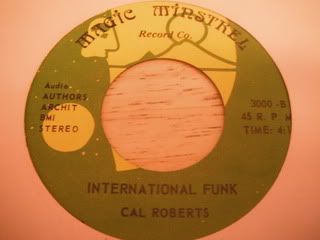 Cal Roberts - International Funk
This is a nice piece of instrumental funk out of Florida. Don't know much about Cal Roberts other than he released two albums for the Soul Deep label in the 70's that regularly sell for over 50 dollars.