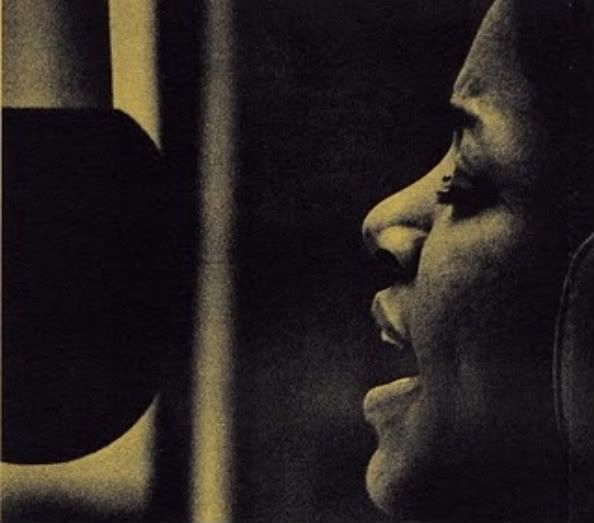 Tracklist...
Cannonball Adderley - Mercy, Mercy, Mercy (Capitol)
Soul Survivors - Explosion In Your Soul (Crimson)
Charles Wright and the Watts 103rd Street Band - I've Got Love (Warner Brothers)
Eddie Floyd - Bring It On Home To Me (Stax)
Senor Soul - It's Your Thing (Whiz)
Rimshots - Save That Thing (A1)
Wisdom - Nefertiti (Adelia)
The Esquires - Girls In The City (Lamarr)
The Incredibles - Crying Heart (Audio Arts)
The Fantastic Four - Ain't Love Wonderful (Ric-Tic)
Bettye Swann - Lonely Love (Money)
The Dells - There Is (Cadet)
Marvin Gaye - Gonna Give Her All The Love I've Got (Tamala)
Betty Wright - I Love The Way You Love (Alston)
The Fuzz - I Love You For All Seasons (Calla)
The Continental 4 - Day By Day (Jay-Walking)
Brothers Of Soul - Guess That Don't Make Me A Loser (Boo)
Johnny and the Expressions - Now That You're Mine (Josie)
Kim Weston - Nobody (MGM)
Bobby Bland - Rockin' In The Same Old Boat (Duke)
Kendra Lou and the Miracles - Be Kind To Your Mind (Red Astaire Remix) (Wah Wah 45's)
Tour Eiffel vs Wu Tang Clan - Le Hipe Hope (Tour Eiffel)
Sonny J - Disastro (EMI)
Harold Melvin and the Bluenotes - The Love I Lost pt1 (Philadelphia International)
The Intruders - I'll Always Love My Mama (Gamble)
Skyy - Here's To You (Salsoul)
Download Link...
http://www.megaupload.com/?d=5D5A35SL
The Incredibles - Crying Heart
Writer, producer and singer Cal Wayman got his start in music singing folk songs in the legendary Grenwich Village coffee houses of the 1960's. He returned to his native Los Angeles in 1966 and formed the soul vocal group The Incredibles with Carl Gilbert and Jean Smith. Alda Denise Erwin later joined the group but didn't appear on this single. Don Rae Simpson was another later member.
"I'll Make It Easy (if you'll come on home)" was a moderate success (no.39 in the R&B charts) they followed this up with another ballad "Heart and Soul" which also sold fairly well. They released several other singles like "Miss Treatment" and "There's Nothing Left To Say" which didn't do as well commercially but are now sought after collectors items.
Brothers Of Soul - Guess That Don't Make Me A Loser
I knew nothing about the Brothers Of Soul before I started researching them for the blog. I was shocked to find out how many of my favorite soul records were written, produced, or featured vocals by this legendary trio. Fred Bridges, Richard Knight and Robert Eaton began working together in 1967. Over a four year period they would collaborate on over 50 tracks. They wrote songs for many legends of soul such as Ruby Andrews, The Chairmen Of The Board, Darrell Banks, Sandra Phillips, Little Carl Carlton, J.J. Barnes, Johnny Taylor etc. Labels they worked for include Stax, Zodiac, La Beat, Groovesville, Epic, Volt, Invictus, Aquarious, Back Beat, Duo, Mutt, Drew, Okeh, and many more.
Brothers of Soul was the name they chose to release their own material under. They came up with the name during the 67 riots in Detroit. Many local business owners wrote "soul brother" on their shop fronts in the hope that looters wouldn't rob or vandalise their premises. Fred Bridges played with the words and came up with the Brothers Of Soul.
They released several 45's on the Boo imprint, a label that was set up by Ricardo Williams (owner of the Zodiac label) specifically to showcase the groups work. "I Guess That Don't Make Me A Loser" was the groups best selling record hitting no.32 in the R&B charts.
Bridges, Knight, and Eaton's song writing talent left a huge stamp on the soul of the late 60's. It's a shame they don't get the recognition they deserve.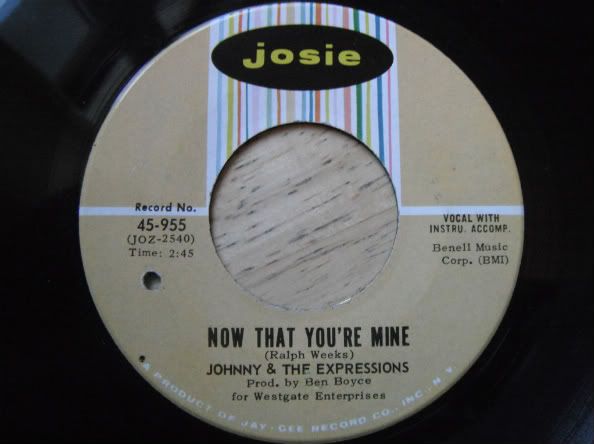 Johnny and the Expressions - Now That You're Mine
Not a lot of info about these guys online, and the info that is there seems dodgy and unconfirmed. Some websites claim lead singer Johnny Mathews was actually Johnny Wyatt of Rochell and the Candles, while others say this is unlikely.
What we do know is the group released three very decent 45's for the Josie label over a 2 year period in the mid 60's before fading into obscurity.
"Now That You're Mine" is a moody ballad that I'm almost positive has been sampled in Hip Hop but I'm drawing a blank on the artist. If any of you have any idea leave a comment below, it's driving me nuts! The b-side "Shy Girl" is a nice mid-tempo tune that wouldn't sound out of place in a Northern set.
The Fuzz - I Love You For All Seasons
The Fuzz were an all girl trio out of Washington D.C. Originally called The Passionettes, the group released two singles under that name before they signed with the New York based Calla label in 1971 and changed the name to The Fuzz. "I Love You For All Seasons" was their first single on the label and sold quite well. Another 7" and an album followed.
The group split ways in 1972 which is a shame as I'm sure they had plenty of great music left in them. Everything they released as The Fuzz or as The Passionettes was of a very high quality. The group wrote all their own material (Sheila Young being the main songwriter) and they weren't bad to look at either! They ticked all the boxes but for whatever reason things just didn't work out.
Kim Weston - Nobody
While Kim Weston is mostly known for her work on Motown, she also released some excellent material on labels such as MGM and Volt after she and her producer husband left Motown in a dispute over royalties. She never reached the same levels of success that she enjoyed with Berry Gordy and co but she did have a couple hits including "Lift Every Voice And Sing" which was adopted as the black national anthem. Profits from the single were donated to the United Negro College Fund.
These days she works as a DJ for a Michigan radio station and continues to tour occasionally (usually with former Motown labelmates like Brenda Holloway and Martha Reeves).
Another fun Kim Weston fact... In 1964 she was offered the song "Dancing In The Streets" but she turned it down.. Oops.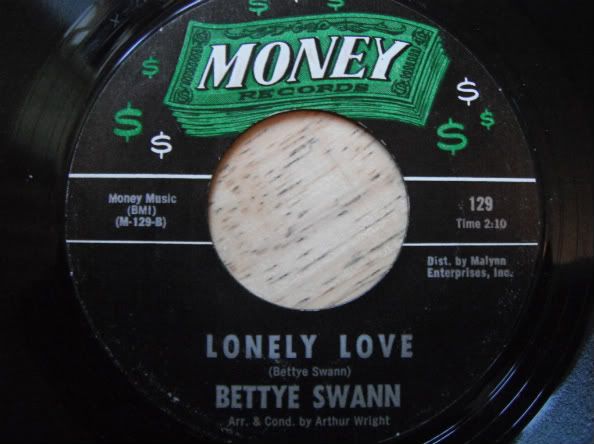 Bettye Swann - Lonely Love
Following the old cliche of country girl moves to L.A. in search of fame and fortune, Bettye Swann left for California from Louisiana in 1963 while she was still a teenager to pursue a career in music. Within a year of arriving she had managed to secure a deal with the Hollywood based Money label where she released a string of great 45's and an LP over a four year period. Her years on Money were her most successful commercially (and arguably artistically). "Make Me Yours" was her first big hit (no.1 in the R&B charts) but it's the b-side "I Will Not Cry" that gets all the plays around here.
In 1968 she moved to Georgia where she signed with Capitol records. Two albums followed. Honest Jon's put out a great compilation a few years back which focussed on her Capitol years.
Bettye then signed with Atlantic in 1972 where she finished out the rest of her career. She's been retired from the music industry since 1980.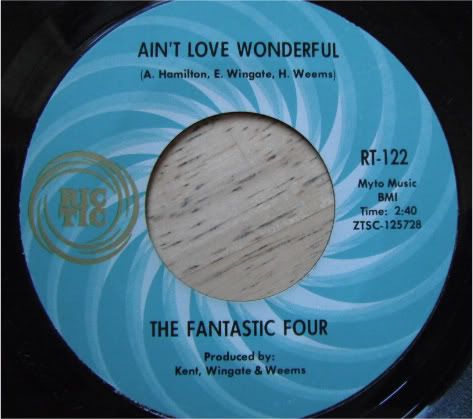 The Fantastic Four - Ain't Love Wonderful
Although the Ric-Tic label was home to artists such as Edwin Starr, J.J. Barnes and the Detroit Emeralds, It was the Fantastic Four who were actually the labels best selling artists. They released their first single "Girl Have Pity"/"Live Up To What She Thinks" in 1966. "Girls Have Pity" was a pleasant enough soul ballad but its "Live Up.." that does it for me. The record didn't do well commercially but their subsequent releases sold quite well (Apart from "Can't Stop Looking For My Baby" which is pretty rare and commands a hefty price tag among northern soul collectors).
"The Whole World Is A Stage" was the groups biggest hit (no.6 on the R&B charts), but once again, the b-side wins. "Ain't Love Wonderful" is a classic piece of northern soul that absolutely kills on the dance floor.
In 1968 Berry Gordy bought out the Ric-Tic imprint, which was how the Fantastic Four ended up on the Motown subsidiary label Soul where they released a few new 45's and an LP (which was basically a collection of their older Ric-Tic singles). They left the label in 1970.
Things were quiet for the group until 1975 when they signed a deal with Westbound and found a new following with the disco crowd through songs like "Alvin Stone(Birth and Death of a Gangster)" and "B.Y.O.F. (Bring Your Own Funk)".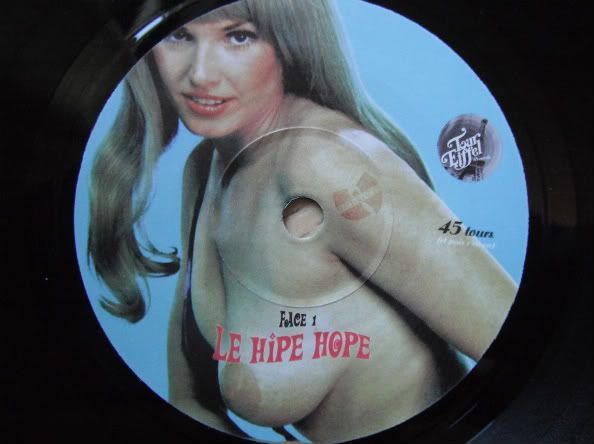 Tour Eiffel vs Wu Tang Clan - Le Hipe Hope
French producer Minimatic dropped this nice little mash up back in 2008. A Wu Tang accapella over uptempo boogaloo beats may seem like a strange fit but this works really well. Great party record. Bonus points for the 70's boobage on the cover too.
If you didn't know Wu Tang are coming to Cork on the 30th of this month. The big question is how many of them will actually show up. Rza isn't involved in this tour and videos of recent shows are missing Raekwon and Inspektah Deck too. While it would be nice to have a full line up, realistically, that was never going to happen. I'm happy enough to see Ghostface, Meth, Gza and crew, anything more is a bonus.
The Rimshots - Save That Thing
The Rimshots worked as a house band for Joe and Sylvia Robinson's All Platinum label as well as related labels like Stang and Vibration. The group provided tracks for artists like Hank Ballard, Chuck Jackson and the Moments, while also recording their own material such as this funky interpretation of the Isley Brother's classic, "It's Your Thing". They also released some great disco in the late 70's.
Senor Soul - It's Your Thing
This is another version of the Isley Brothers classic with a heavy latin touch.
Senor Soul was basically War before they were called War. They released several singles and a couple albums under that name before hooking up with Eric Burden and becoming one of the most successful and influential funk bands of the 70's.