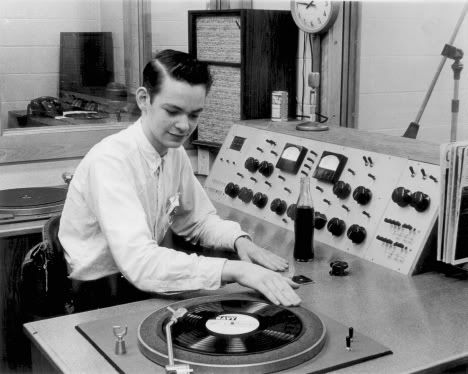 Download Link...
www.zshare.net/audio/86956612252c6ead/
Exile Eye - Forward On - (Equilibrium)
D Styles - Beautiful Fog - (Bully)
Bus Crate 16-Bit Ensemble - No.10 (Moogie's Discovery) - (Harmony Society)
The Miracles - A Love She Can Count On - (Tamla)
The Delfonics - I Told You So - (Philly Groove)
The Controllers - Feeling A Feeling - (Juana)
Billy Preston - Struttin' - (A&M)
Herbie Hancock - Palm Grease - (Columbia)
The Main Ingredient - California My Way - (RCA)
The Four Tops - Still Water (Love) - (Motown)
The Dramatics - In The Rain - (Volt)
Rare Earth - (I Know) I'm Losing You - (Rare Earth)
Edwin Starr - Ball Of Confusion (That's What The World Is Today) - (Soul)
Edwin Starr - Twenty Five Miles - (Gordy)
ZZ Top - It's Only Love - (London)
Iron Butterfly - Iron Butterfly Theme - (ATCO)
Jimi Hendrix Experience - All Along The Watchtower - (Reprise)
Donald Austin - Nanze - (Eastbound)
Otis Redding- Sweet Lorene - (Volt)
Jr. Walker and the All Stars - Shake and Fingerpop - (Soul)
The Dynatones - The Fife Piper (HBR)
Breakestra - Sexy Popcorn Pot - (Stones Throw)
The Chairmen Of The Board - Give Me Just A Little More Time - (Invictus)
Patty and the Emblems - Mixed Up, Shook Up, Girl - (Herald)
The Honey Cone - Take My Love - (Hot Wax)
King Floyd - Groove Me - (Chimneyville)
The Staple Singers - Ill Take You There - (Stax)
Gladys Knight and the Pips - I Feel A Song (In My Heart) - (Buddah)
Gwen McCrae - Rocking Chair (Cat)
Happy New Year all! I hope you enjoyed the Holidays and the over-eating, over-drinking, over-spending etc thats normally associated with the time of year. 'Tis not the season for moderation! New Years Eve is almost always a shit night out with over crowded venues, opportunistic door charges, and messy drunk punters, so it was a probably good thing for Corks hip hop community that the big night out would be the 30th. 8 djs from around the country taking 15 minutes each, plus an MC showcase of local talent. DJs who played on the night included 2003 world ITF scratch champ DJ Flip, Jimmy the Hideous Penguin, whos quickly becoming a force in the world of international turntablism, Deviant, winner of the Community Skratch Games freestyle scratching competition 2010, plus the usual local suspects, Teknique, Colm K, Big Daddy Can, Longy, and myself. In the end due to time restrictions my set didn't happen but that took nothing away from what was an epic night of Irish hip hop.
The man behind this night, and many more over the last couple years, was local Emcee/DJ Longy. The guy has been putting in work lately and deserves some serious props. He was the man responsible for the DJ Tuki/DJ Zuzee gig back in November and his birthday bash in October was another night that will definitely be remembered.
As someone who's been involved in hip hop nights in this city for many years, I know how hard it is to get people interested. A typical hip hop night in Cork would usually consist of the same 20 regulars, a heavily uneven male/female ratio, and little to no dancing (unless your a breaker). These recent nights haven't been like that. Weather it's because of a genuine rise in the interest of hip hop in Cork, the choice of venues, Longy's hands on approach to promotion, luck, or all of the above, is a mystery to me. What I do know is that lately, Hip Hop gigs in Cork have been fun again, and I'm proud that I've been involved in some of these nights in a small way.
Longy's keeping things moving this month with a new night in a new venue. The first installment of "Loungin" will be happening upstairs in the Pheonix on sat the 22nd. DJs on the night will be Longy, J Rummy, and DJ Harvey, with the usual open mic in effect. Longy is one of the only DJs I know who is making use of the visual functions in the new Serato. Expect no nonsense hip hop with classic videos to accompany the tunes. Its been a minute since I've heard Harvey play, but dude never disappoints. J Rummy's taking off to Brazil soon in search of the rare, so this will probably be your last chance to see him play in Cork for a while. For those that don't know, Rummy's got records! One of the most dedicated diggers I've ever met. Its gonna be a good one. Come down and support!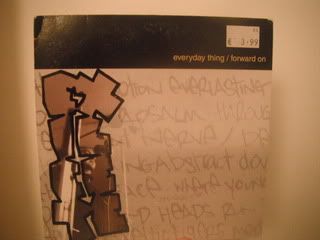 Exile Eye- Forward On
So, with that I thought we'd kick things off this month with some Irish hip hop. Well.. almost Irish. Like myself, Exile Eye was born in California and moved to Ireland in the early 90s. He's been involved with hip hop over here ever since. The producer/rapper has released some very solid material here over the years, starting in 1998 with the "Optic Nerve EP". That was followed up with this 7" in 2001 and his debut album "Pressure Points" in 2004. The LP was a good listen throughout, with featured production from Troubled Soul, Hazo, and the above mentioned J Rummy. Over the last few years Exile has teamed up with Deep Burial to form Melodica Deathship. 2010 saw the release of their LP "Doom Your Cities, Doom Your Towns", The album has a dark, menacing, production sound with a spoken word vocal style. Go check it out, I guarantee you've never heard an album like it.
Billy Preston- Struttin'
Billy Preston has played with everyone. Literally. The Beatles, The Rolling Stones, Little Richard, Joe Cocker, Eric Clapton, Sly Stone, Johnny Cash, The Red Hot Chilli Peppers, Bob Dylan, Sam Cooke, Aretha Franklin... Everyone. He was a prolific session musician, a hard working touring musician, an accomplished songwriter, he even had a beautiful singing voice! He was skilled on the Piano, Fender Rhodes, Hammond Organ, Clavinet, a range of Synthesizers etc. His stamp on popular music is huge.
"Struttin" is a funky little tune with Preston having fun on a synth throughout. In 1974, as synths became more compact and commercially available, many funk, disco, and rock groups were experimenting with the new sounds. Preston was one of the players embracing the new technology.
The Main Ingrediant- California My Way
The Main Ingredient were hugely popular in their day and made some excellent soul music throughout the 60's and 70's but somehow they don't seem to get the mainstream recognition and praise that some of their peers enjoy today.
Maybe they didn't have any big chart topping singles? Nope. "Everybody Plays The Fool" and "Just Don't Want To Be Lonely" were both top 10 pop chart hits and they had many other minor hits. They worked with some amazing artists in the 70's. Stevie Wonder wrote or co-wrote many songs for the group as did Leon Ware. They get plenty of sample love from current artists. Notorious Big, Eminem, Main Source, and DJ Shadow are just a few of the artists that have borrowed from The Main Ingredient's deep back catalogue.
Maybe they didn't have any story or tragedy that is often necessary to propel artists to cult status? No, Sadly they had that too. Lead singer Donald McPherson would suddenly fall ill with leukemia just as the group was starting to gain momentum. He died in 1971. The group recruited one of their back up singers, Cuba Gooding Sr (yeah, he is) to replace McPherson. Why they aren't a household name is unexplainable but they still have a good following from lovers of the sweet soul sound. Northern Soul fans should check their early releases as The Poets and The Insiders (both better names than The Main Ingredient in my opinion).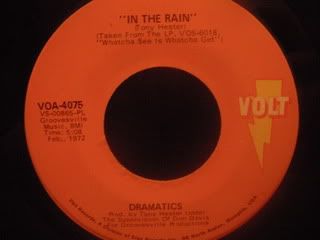 The Dramatics- In The Rain
This song was featured on a Wu Tang sample compilation I bought years ago called Shaolin Soul. After I heard that album I started to get serious about collecting soul music. The comp actually goes for a few quid these days. Id sell mine if it wasn't in such a rough condition, plus there are a few tracks on there that are quite hard to come by. There is a certain dark, moody vibe to most of the soul RZA samples, and this Dramatics track is a good example of the stuff that seems to inspire him.
The Jimi Hendrix Experience- All Along The Watchtower
Bob Dylan was an artist Jimi Hendrix had a huge respect and admiration for. Legend has it that Hendrix used to bring a Bob Dylan song book with him almost everywhere and played from it religiously. It was only a matter of time before Jimi would cover a Dylan track. He released his version of 'All Along The Watchtower' just six months after Dylan's but for many Jimi's is the definitive version. Even Dylan himself couldn't help but be impressed..
"It overwhelmed me, really. He had such talent, he could find things inside a song and vigorously develop them. He found things that other people wouldn't think of finding in there. He probably improved upon it by the spaces he was using. I took license with the song from his version, actually, and continue to do it to this day."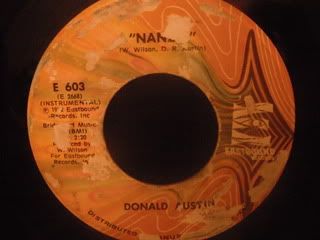 Donald Austin- Nanze
Great funk two sider by Detroit guitarist Donald Austin. ''Crazy Legs'' is a beast of a track that will definitely be getting played on another show, but this time I went with the B side ''Nanze''. 80's hip hop fans might recognise this one as the sample from the Paul C produced "Coolin' On The Ave" by Freddy B and the Mighty Mic Masters, A heavy piece of late 80s hip hop thats well worth tracking down if that stuff interests you.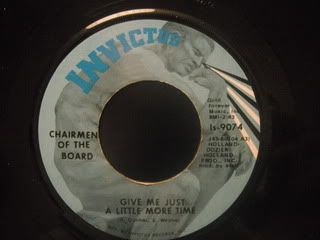 The Chairmen Of The Board- Give Me Just A Little More Time
The story behind The Chairmen Of The Board is an interesting one. The group was thrown together by the legendary song writing/production team Holland Dozier and Holland after their split from Motown. The group was meant to be HD&H's answer to the Four Tops, and the plan was to beat their old bosses at their own game. Motown's in house band The Funk Brothers would provide the track for "Just A Little More Time", Reggie Dunbar and Edith Wayne are credited as song writers but its always been suspected that the track was penned by HD&H who still couldn't legally write songs for any label but Motown. In 1971, when HD&H were finally free from their abandoned contract, Dunbar and Wayne disappeared from music, never to be heard from again.
Despite all the beefs and legal bullshit that surrounded the group, their debut 45 was a hit, and more importantly, a beautiful piece of soul music. General Johnson's unique vocal style set The Chairmen Of The Board apart from similar groups at the time. The breakdown at the end of the track, when Johnson blasts out his trademark "brrrrrrrr" sound is nothing short of genius.
The group split ways in 1976. Johnson went on to record some decent music as a solo artist on the Arista label before deciding to reform The Chairmen towards the end of the 70's. The group still performs today, though sadly without Johnson who died of lung cancer last year.
Patti and the Emblems- Mixed Up, Shook Up, Girl
Patti and the Emblems released 7 or 8 singles between 1964 and 1968, "Mixed Up, Shook Up, Girl" being their only hit. Some of their other tracks would find a following later in the Northern Soul scene, most notably "Im Gonna Love You A Long, Long Time".