Tracklist....
The Blackbyrds - The Baby (Fantasy)
Donald Byrd - Black Byrd (Blue Note)
A Taste Of Honey - Boogie Oogie Oogie (Capitol)
The Jackson 5 - ABC (Motown)
The Jackson 5 - The Love You Save (Motown)
The Jackson 5 - I Want You Back (Motown)
The Jackson 5 - Dancing Machine (Motown)
Michael Jackson - Get On The Floor (Epic)
Michael Jackson - Don't Stop Till You Get Enough (Epic)
Michael Jackson - Rock With You (Epic)
Michael Jackson - I Can't Help It (Epic)
The Jackson 5 - Never Can Say Goodbye (Motown)
Reuben Bell - I Hear You Knocking (it's too late) (DeLuxe)
Eddie Kendricks - Can I (Tamala)
Curtis Mayfield - Sweet Exorcist (Curtom)
The Chambers Brothers - People Get Ready (Columbia)
Betty Wright - Girls Can't Do What The Guys Do (Alston)
The Ray Charles Orchestra - Booty Butt (Tangerine)
Poquito Soul - One G Plus Three (Gordo)
Little Milton - Poor Man (Checker)
The Chubukos - Witch Doctor Bump (Mainstream)
Ohio Players - Funky Worm (Westbound)
Breakout - Planet Rock pt.1 (Melting Pot)
Tony Camillo's Bazuka - Dynomite pt.1 (A&M)
Club Nouveau - Why You Treat Me So Bad (Warner Bros)
Diana Ross - Love Hangover (Motown)
Madlib feat. Guilty Simpson - Go! (BBE)
Dangerdoom feat. Talib Kweli - Old School (Lex)
Download Link.....
http://www.megaupload.com/?d=ENYOQZ8A
Alphonso "Fonse" Mizell
Greats of the music era I love are falling fast these days. This month saw the loss of another true legend, Alphonso "Fonce" Mizell of the untouchable production team, The Mizell Brothers. If you don't know about the Mizells you need get the fuck off my blog and go do some homework. Donald Byrd, The Jackson 5, Gary Bartz, Marvin Gaye, Bobbi Humphrey, L.T.D., Taste Of Honey... the Mizells worked with them all. I wish I could have given the man a more appropriate tribute than just these few songs but unfortunately my Mizell 7" game is pretty weak. I was tempted to break out the LPs but we've got rules around here..
RIP to one of the greats.
Michael Jackson
It was two years ago last month that MJ passed. The media circus that followed his death ended up putting me off listening to his music for a while. Two years on I can go back to these songs with fresh ears and appreciate them for the absolute classics they are. RIP to another great.
Betty Wright - Girls Can't Do What The Guys Do
Betty Wright signed her first record deal when she was just 12 years of age. She released her debut LP two years later which included this Judy White cover. She went on to have huge success throughout the 70's and 80's and continues to make music to this day. She was even nominated for a Grammy in 2005 for her production work on Joss Stone's "Mind Body and Soul" LP.
Hip Hop and R&B artists have sampled the shit out of her catalogue. Afrika Bambaattaa, Beyonce, RJD2, DJ Quick, and Mary J Blige have all taken pieces.
Betty released her last album "Fit For A King" in 2001 but earlier this year announced plans to record new material.
Tony Camillo's Bazuka - Dynomite pt.1
Bazuka was the brain child of legandary producer and arranger Tony Camillo. Before forming the band, Camillo worked with many legendary soul artists such as Gladys Knight and the Pips, Stevie Wonder, Millie Jackson, Freda Payne, the Supremes... the list goes on.
While Camillo was known for his soul production, "Dynomite" is more of a disco record that I'm sure sounded ahead of it's time in 1975.
Breakout - Planet Rock pt.1
Incredible heavy funk version of Afrika Bambaattaa's electro classic. This got quite a bit of attention from some of the worlds best DJ's when it came out in 2006. Bambaattaa himself was an outspoken fan. A 12" was later released which included a full 9 minute version.
The band decided to split ways in 2007. I'm not sure what the individual members are doing now but I'd be interested to know. They're some amazingly funky musicians.
The Chubukos - Witch Doctor Bump
The Chubukos (aka Afrique) are probably best known for their version of Manu Dibango's "Soul Makossa". This 13 member funk big band included legendary guitarist David T. Walker and bass player Chuck Rainey. They released several 45's and one album in the 70's.
Unfortunately this is the promo release of this 45 which has "Witch Doctor Bump" on both sides. The commercial release was backed with "House Of The Rising Funk", which has a great opening drum break that earned the song a place in the Ultimate Breaks and Beats series.
Club Nouveau - Why You Treat Me So Bad
Almost every time I play this track out I get someone coming up to the decks asking what it is. Usually this is followed by me trying to pronounce the name of the band and them looking at me confused. After another couple attempts I usually ask them to stick around untill the songs over so I can just show them the record. This little ritual can be frustrating but its a sure sign the song is working.
EDIT.. My wife has just been schooling me on the pronunciation of Club Nouveau, a lot of this confusion has probably been my fault ;)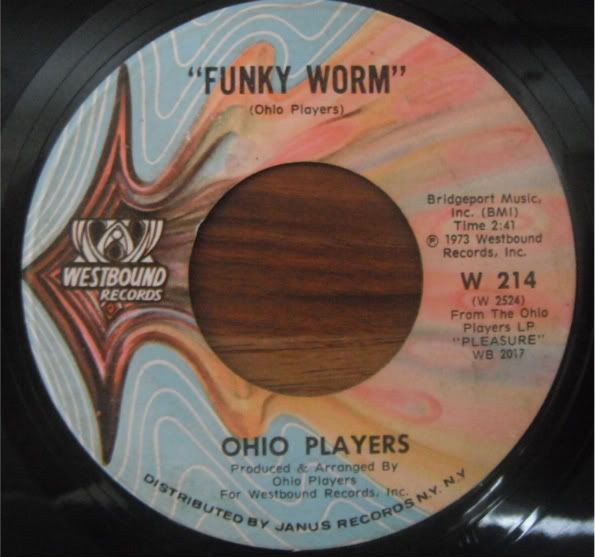 Ohio Players - Funky Worm
This has to be one of the most sampled songs in hip hop history. The opening drums, bass groove and of course the classic "worm" synth sound have all been used to death. The song was basically a blueprint for 90's west coast hip hop.
Little Milton - Poor Man
Legendary blues singer, guitarist, and songwriter Little Milton had a long and successful career beginning in the early 50's when he was discovered by Ike Turner, and lasting right up to his death in 2006. Over the years he released many classic records for labels such as Sun, Chess, Stax, Malaco, and Bobbin. Milton's career deserves a lot more attention from music lovers outside of blues circles.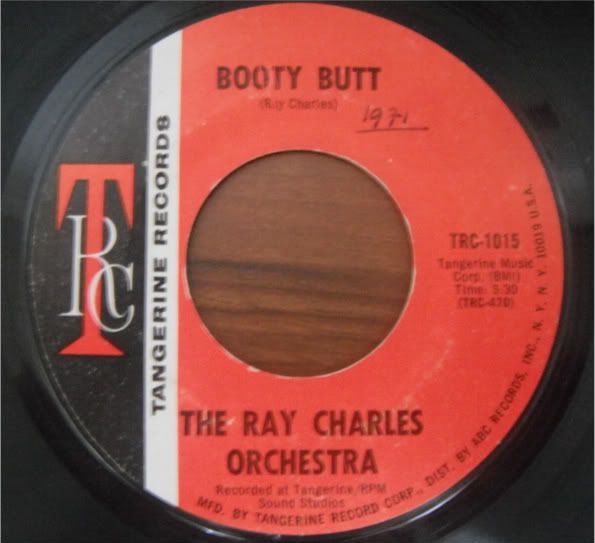 The Ray Charles Orchestra - Booty Butt
This is a funky little tune from Ray Charles' 1971 album "My Kind Of Jazz" that you should recognise as the sample for De La Soul's "Brain Washed Follower" from their classic "3 Feet Hight and Rising" LP.
Amy Winehouse
It wouldn't be right to do a tribute show this month without mentioning Amy Winehouse. She was one of the most interesting and talented soul singers of the last 10 years. Another great loss to music. RIP.