Jimmie (Preacher) Ellis- Don't Tax Me In (Space)
Mel Brown- Swamp Fever (Impulse)
One G Plus Three- Summertime (Gordo)
Little Hooks with Ray Nato and the Kings- Give The Drummer Some More (Enjay)
Yardbirds- Got To Hurry (Columbia)
Fugi- Mary Don't Take Me On No Bad Trip (Cadet)
Steven Stills- Love The One Your With (Atlantic)
Detroit Emeralds- Baby Let Me Take You In My Arms (Westbound)
Ann Peebles- When I'm In Your Arms (Hi)
Danny Hunt- The Beginning Of The Void (La Cade)
Ray Barretto- Soul Drummers (Fania)
Santana- Soul Sacrifice pt1 (CBS)
Lafayette Afro-Rock Band- Oglenon (Makossa)
Aretha Franklin- The Weight (Atlantic)
Brenda and the Tabulations- A Love You Can Depend On (Top and Bottom)
The Traits- Harlem Shuffle (Scepter)
The Emotions- Blind Alley (volt)
Timmy Thomas- Why Can't We Live Together (Glades)
Bobby Womack- California Dreamin' (Minit)
Keith Meehan- Hooker St. (Stoned Circus)
Dirk Thornton- Run (All City)
Onra- My Comet (All City)
The Jackson 5- Never Can Say Goodbye (Motown)
So much crazy shit has happened in Ireland in the month since i recorded the last show that it feels like 3 months. An 85 billion euro I.M.F./E.U bailout, record breaking cold spells, one of the toughest budgets in the history of the state, and on the the same day as this historic budget, Bank Of Ireland had an I.T. problem that basically had ATMs spitting out cash to people who had no money in their accounts. Huge queues formed at ATMs all over the country as word spread about the crash. Happy days.
This I.M.F. bailout was the result of our banks being on the verge of collapse and most of the 85 billion borrowed was pumped back into the banks. Of course this money will have to be paid back by the tax payer and the budget announced on the 7th was when we would all find out how much money we'd be down as a result of this mess. The budget was criticised by most for being harsh on the poor. With cuts to social welfare, children's allowance, and a 1 euro drop on the minimum wage, it seemed as if the most vulnerable in society would end up paying more than their fair share of the bill. So it was appropriate that on the day of this savage budget some computer malfunction would force these banks, who have taken so much, to finally give something back. God has a wonderful sense of humor!
It could be argued that this was the last thing our struggling banks needed or that these people were stealing from tax payers, or that the money will have to be paid back or that this was just more evidence of the incompetence of Irish banks but that would be a pretty boring way of looking at it. I hope that those who did get money enjoyed it cause plenty of doom and gloom is predicted for the future. Default on Irelands debt and the break up of the Euro currency are strong possibilities. I don't know what that means for Ireland but I'm pretty sure its not good. Scary times. Enjoy that money.
It was with this stuff on my mind that i chose the first track for the december show...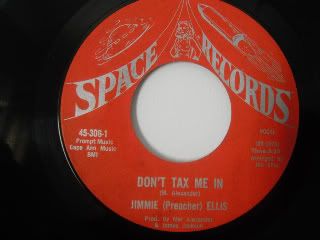 Jimmie (Preacher) Ellis- Don't Tax Me In
The guy who sold me this record told me that it was part of a series of 45s that Jimmie Ellis made that all had a political theme. I haven't been abel to find any info online confirming this so we'll just have to take his word for it. What I do know is that Jimmie Ellis started his career in 1962 when he recorded a single with a group called The Centuries, and went on to record as a solo artist on labels like Round, Space, and Romark. His "Gonna Do It By Myself"/Go Head On" 45 on the Jewel label (where he recorded as Jimmy Preacher Ellie) is a sought after 45 on the northern scene, as is his "Happy To Be" track on the Century City label.
Mel Brown- Swamp Fever
One for the break heads! This would be a great record even if it didn't have open drums all over it, but the breaks are an added bonus! Mel Brown was an in demand session musician who worked with everyone from Johnny Otis to Jerry Lee Lewis before recording five albums of his own for the Impulse label. He would continue performing and recording his entire life. He passed away at age 69 on the 20th of March, 2009.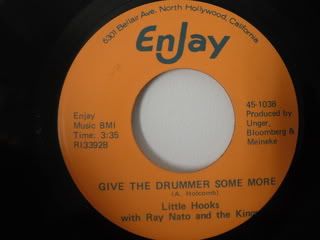 Little Hooks with Ray Nato and The Kings- Give The Drummer Some More
This one is worth buying for the intro alone! With the title "Give The Drummer Some More" its no surprise this track gets attention these days. Although this style of funk wasn't what the band was originally known for. They recorded their first single all the way back in 1953 as a doo wop group called The 5 Kings, and went on to record as The 4 Kings and The Ramblers. "Give The Drummer Some More" was recorded in 1972 and was a definite change in style for the band. Times had changed and like any great band, they adapted. The Kings had a career that lasted almost 30 years, but they would never get the big hit they deserved. Music is a funny business.
Detroit Emeralds- Baby Let Me Take You In My Arms
These spoofers are actually from Little Rock, Arkansas. Ha ha! Busted. Nah, they started in Little Rock as The Emeralds and renamed the band when they moved to Detroit. Adopted Corkman Jerome Rimson used to play bass with these guys but I wasn't abel to find out if he played on this track. You can see Jerome playing around Cork these days with The Booty Band.
Ray Barretto- Soul Drummers
I dont have alot of latin music in my collection but this is one of my favorite 45s from any genre. As the title suggests this one is all about the drums. Listening to this its obvious why Barretto was called the King Of The Hard Hands.
The Emotions- Blind Alley
Sampled again and again in hip hop but to this day i don't think anyone has managed to top Big Daddy Kane's "Aint No Half Steppin" and people should probably stop trying. All the sampling stuff aside this is a great soul record that always gets a good response when its played out.
Bobby Womack- California Dreamin'
California Dreamin' is definitely one of my favorite songs. There are so many incredible versions of this out there from artists like Eddie Hazel, Jose Feliciano, Lee Moses, and the Mamas and Papas original still sounds great. Leaving everything behind and taking off to somewhere warm and exciting is something we all daydream about from time to time, and since I was born in California the song has always been special to me. This was a single off of Womack's debut album "Fly Me To The Moon" although he'd already had a sucessful career in music as a song writer and session guitarist before trying his hand at making his own records.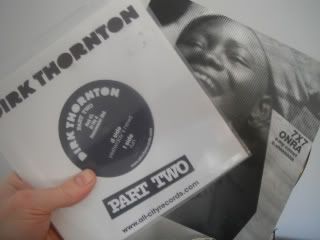 Dirk Thorton- Run/ Onra- My Commet
In case you havent heard, All City Records have been killing it lately. They released a great series of 7"s last year which included the Onra record featured here. They've followed that up with a series of 10"s from artists like House Shoes and Dam Funk. They had one of the best albums of 2010 with Onra's Long Distance and have managed to keep their shop in Temple Bar open in these tough financial times. Respect where its due. Keep up the good work!
A merry Christmas and a happy New Year to you all. Check Back in 2011 for more mixes and all that.
peas,
Jus.