Tracklist...
Lee Perry - Roast Fish And Corn Bread (Orchid)
The Heptones - We're In The Mood (Coxsone)
Sidney Owens and North and South Connection - Sputnik (Scorpio Sounds)
Mystiques - So Good To Have You Home Again (Numero Group)
Billy Garner - I Got Some (Fryers)
The Invaders - Latin Lips (Jazzman)
Mary Lou Williams - Credo (Jazzman)
Lee Moses - Reach Out I'll Be There (Jazzman)
Syl Johnson - I Resign From Your Love (Federal)
Ebony Rhythm Band - Soul Heart Transplant (Now and Again)
Connie Price and the Keystones feat. Soul Sister D'Mya - Time To Kill (Now and Again)
Smokey Brooks - Spin-It Jig (Now)
Otis Lee - Hard Row To Hoe (Soul Magic)
We The People - Break Down (Davel)
Cojo - Play It By Ear (Lotus Land)
Darwin's Theory - Keep On Smiling (Lotus Land)
John and Ernest - Super Fly Meets Shaft (Rainy Wednesday)
WQLJ - Nothin' Doin' But Waitin' On Leon (WQLJ)
Mack Rice - Three People In Love (Capitol)
Ed Robinson - Hey Blackman (GM)
The Pack - Harlem Shuffle (Lucky Eleven)
Donald Austin - Crazy Eleven (Eastbound)
Firebirds - Soul Sonata (Excello)
The Chi-Lites - We Need Order (Brunswick)
C-Brand - Shake Your A-S-S-E-T-S (Detroit International)
Magic Disco Machine - Scratchin (Motown)
Hypnotic Brass Ensamble - Brass In Africa (Handcuts)
Bobby McFerrin - Don't Worry Be Happy (EMI)
Download Link...
http://www.megaupload.com/?d=TIIWAOUT
The whole original vs re-press argument is something I try my best not to get bogged down in. Sure, there's something nice about owning an original, but I'm not one of those types that will refuse to play a record simply because it's a reissue. There's just too much incredible music out there that I'm never going to realistically be abel to find or afford without the help of labels like Now And Again and Jazzman. I'm not willing to spend big money on any record and I don't live in a part of the world where rares turn up in bargain bins very often, so if I'm left with the choice of losing my rent money on an original or picking up that 10 euro repress, well... there's no choice at all.
I'm also more than happy to give my money to the labels out there doing it right. Some are just looking to bootleg old records for a quick buck, but others make every effort to license the music legally in the hope that the original artists are compensated.
Most of the 45's I've been playing on these podcasts have been original pressings. They aren't rare records (most of the stuff I play can be found for less than a tenner with a little patience) but until now I've avoided playing re-presses for the most part. This month I decided was as good a time as any to break out a few. So the first half of this show will focus on some of those rare records that I haven't as of yet been abel to find original copies of. The search continues...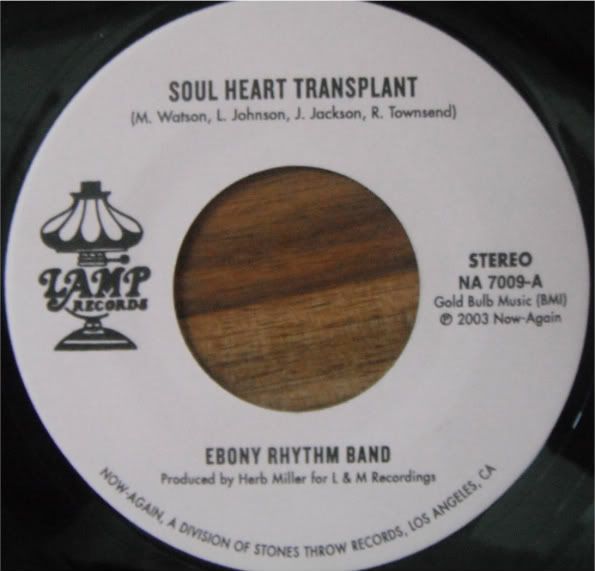 Ebony Rhythm Band - Soul Heart Transplant
This is an incredible piece of psychedelic funk that was discovered and reissued on 7" by the Stones Throw subsidiary Now and Again back in 2003. "Soul Heart Transplant" b/w "Drugs Ain't Cool" was the Ebony Rhythm Band's only solo release, but they did work as a backing band for other artists. Some of the unused tracks from those studio sessions ended up being compiled and released on "The Lamp Sessions" LP in 2004.
The Hypnotic Brass Ensemble - Brass In Africa
The Hypnotic Brass Ensemble are one of my favorite live acts. The energy they bring to the stage is incredible. They're back in Cork for the Jazz Festival next month where they'll be doing a show in the Pav, as well as taking part in the Honest Jon's Chop Up show in the Savoy. A week before that the boys are in Dublin doing a special Sun Ra inspired set for the Choice Cuts Rhythm Weekender.
I'm sure by now anyone in Ireland with any interest has probably seen them at least a couple times (It seems like they spend more time in Ireland than they do in the states) but that's no reason to not go and see them again.
Magic Disco Machine - Scratchin
One of those classic breaks that seemed to get sampled by just about everybody in the late 80's. N.W.A., Slick Rick, Stetsasonic, Run DMC, Biz Markie, Big Daddy Kane, etc, etc.. the drums and horn stabs are everywhere.
John and Ernest - Super Fly Meets Shaft
Weird novelty record that uses snippets of random songs to tell a ridiculous story about Super Fly and Shaft. Steinski style sample fodder.
Mack Rice - Three People In Love
Yet another legend of soul music who is far too often overlooked. Throughout his long career Rice has written over 400 songs, many of which are classics. His compositions have been performed by The Staple Singers, Johnny Taylor, Wilson Pickett, Otis Clay, Albert King, Rufus Thomas, Ike and Tina Turner, Etta James, and many, many more.
He got his first big break in the late 50's with the Falcons, a group that included Eddie Floyd, Joe Stubbs and Wilson Pickett. They had several hits in the late 50's and early 60's before eventually splitting ways in 1963.
In 1965 he wrote and recorded what is probably his best known song, "Mustang Sally". Originally titled "Mustang Mama", it was the one and only Aretha Franklin who suggested he change it to Sally. Mack's version did quite well but it's Wilson Pickett's version that is remembered by most today.
Mack worked as an in-house songwriter for Stax records from 1967 straight through to the end when Stax eventually closed in 1978. At that point he invested some of his money in an asphalt company and left the music industry entirely until 1992 when he finally released a solo album titled "Right Now" on the Blue Suit label. He now lives in Detroit and is still performing.
This record can be a tricky find these days. It often sells for over 50 euro, partially because of it's use on Cut Chemist and DJ Shadow's Brain Freeze mix. Cut Chemist will be back in Cork next month alongside JRocc for the Rhythm Weekender. Not to be missed.
Firebirds - Soul Sonata
Firebirds were a group of Detroit session musicians. It's believed this track was probably an unused song from a previous studio session that Excello decided to release as an instrumental. Open drums + pleasant piano + funky bassline = Keeper.
The Pack - Harlem Shuffle
The Pack we're a garage rock band from Michigan who had several regional hits in the second half of the 60's. The group was originally a soul and funk cover band called The Jazz Masters until they were discovered by radio D.J. Terry Knight. At the time Knight was growing tired of radio and wanted to start making music of his own. He recruited the Jazz Masters as his band and renamed them The Pack.
With Knight as lead singer and songwriter, the Pack released a string of 45's and one album before Knight left the group to pursue a solo career in 1967. This cover of the Bob and Earl classic was the groups first release without Knight. A couple more 45's followed before the band split ways in 1968. Don Brewer (drums) and Mark Farmer (bass) would go on to form the hugely successful Grand Funk Railroad.
Meanwhile Knight was having some success with a group called the Terry Knight Revue. This however was short lived. He was eventually reunited with his old band mates when he became producer and manager for Grand Funk Railroad. Despite the huge success Grand Funk enjoyed while under Knight, the band claimed they weren't getting the money they were owed and eventually sacked him. Not one to go quietly, Knight sued the band for breach of contract. Legal battles dragged on for over two years before Grand Funk eventually won their freedom from Knight, but at a heavy price.
After the Grand Funk days, Knight started the Brown Bag Records label which he ran for a year or two before retiring from the music business permanently in late 1973. Knight disappeared from the public eye for over 30 years until his bizarre and tragic death brought him back into the spotlight.
In November of 2004 Knight was murdered in a domestic dispute. He was stabbed 17 times while trying to protect his daughter from her abusive boyfriend. His killer was convicted and is now serving a life sentence.
The Chi-Lites - We Need Order
I've had this record for years, somehow it was only recently that I realised this song was the sample source for one of my favorite Hip Hop tracks from the late 90's, All City's "The Actual".