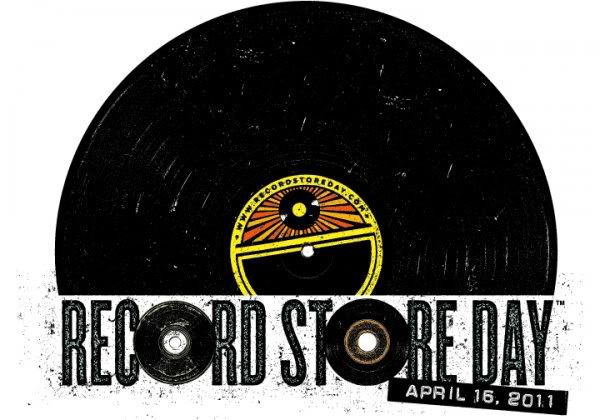 Tracklist...
Marvin Holmes and the Uptights - Ooh Ooh The Dragon pt1 (uni)
Earl Van Dyke and the Soul Brothers - I Can't Help Myself (Sugar Pie, Hunny Bunch) (soul)
Shorty Long - Night Fo' Last (soul)
Kool and the Gang - Funky Man (blue elephant)
Sly and the Family Stone - Sing A Simple Song (epic)
Jean Knight - Mr. Big Stuff (stax)
Don Julian and the Larks - Shorty The Pimp pt1 (money)
Sugar Billy - Super Duper Love pt1 (fast track)
Booker T. and the M.G.'s - Soul Clap '69 (stax)
Rufus Thomas - The Breakdown pt1 (stax)
The Family - Family Affair (north bay)
Ripple - A Funky Song (grc)
Betty Davis - If I'm In Luck, I Might Get Picked Up (just sunshine)
The Kinks - Such A Shame (reprise)
Donovan - Sunshine Superman (epic)
Supergrass - St. Petersburg (parlophone)
Jane's Addiction - Been Caught Stealing (warner brothers)
Dot.Matic - The City (record breakin')
Deviant - Shoes Not Not / Vain (Glorious) (alphabet set)
Dirk Thornton - Catwalk (all city)
Edan - Sagittarius Rapp (now-again)
Anita Ward - Ring My Bell (juana)
Carl Carlton - She's A Bad Mama Jama (20th century fox)
Tony Troutman - Do It Right (t main)
Download Link...
http://www.megaupload.com/?d=5E34A48P

First things first.. Let me give an ol' tip of the cap to the good people at Plugd records who have just re-opened their shop at the Triskel Arts Centre on Tobin Street, fittingly enough on Record Store Day, April 16th. The new shop looks amazing. There's a music venue and cafe on the premises, which will please my wife who spent plenty of time at the old location patiently waiting while I listened to whatever was new in that week.
At a time when record shops all over world are closing their doors, it's a beautiful thing to see one re-open. This year alone has seen Dublin lose two landmark shops, City Discs and Comet. Thankfully the lads at Plugd seem confident that they can make the shop work, and they're excited about giving it another shot.
I won't go on a rant about Plugd's importance to Cork's music scene, This has been done many times by people much better equipped for the job than myself, I'll just say welcome back.. you were missed.
So pop in to check out the new location and give them some of your money. They really, really deserve it.
The Community Skratch Games is pretty much the highlight of the year on Ireland's Hip Hop calendar. This month will mark the 5th year of the mini scratch festival which takes place over 4 days in Galway. Turntablism in general may be dying a slow death, but a group of talented DJ's, producers, musicians, and artists in the west of Ireland are keeping the best parts of the scene alive and interesting.
The Community Skratch Crew have brought their unique take on Hip Hop culture to the UK and other cities around Europe over the last couple years. Their releases on the Nozl Recordings label (most of which are available for free download) have been getting a lot of attention lately and they've just started a great podcast that's already 3 episodes deep. Keep up with all their goings on at
www.nozlrecordings.com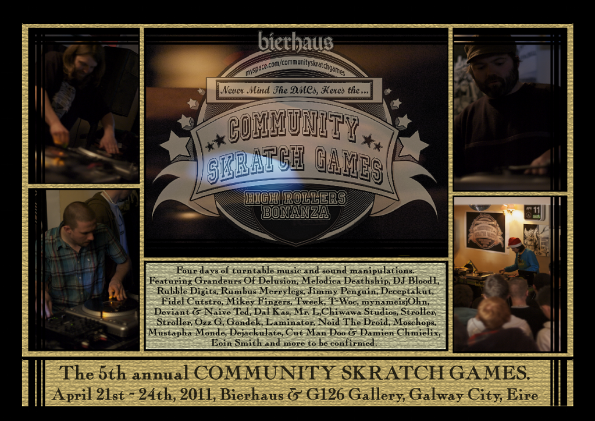 This year the games will begin on Thursday the 21st of April at the G126 gallery where there will be an exhibition of artwork, photography, and design as well as a turntablism showcase and the release of the new Deviant and Naive Ted 12 inch "Send In The Hounds".
Friday the 22nd will feature a special showing of the landmark turntablism film "Night At The Knitting Factory" also at the G126 gallery. The film documents a legendary night of live performances by the D Styles Sextet and Ned Hoddings. This show, and the D Styles album "Phantazmagorea" represent a crossroads in turntablism where competition takes a back seat to making coherent and beautiful scratch based music.
Don't miss this rare opportunity to see this important piece of turntablism history on a big screen with a nice sound system.
The highlight of the weekend is always Saturday's Open Freestyle Battle Royal in the Bierhaus which attracts incredible turntablists from all over Europe. It's a different format to the average DJ competition. A loop is played, each DJ gets a minute show their skills, after each round the weakest competitor is voted off, the beat is changed, and it all starts again.
What's most interesting about this competition is that despite high level of talent involved, there is no money for the winner. The only prize is a big bag of raw meat (seriously) which is traditionally cooked up the following morning and shared with the other contestants. This is the Community Skratch Games after all, prize money wouldn't really fit in with the spirit of the festival.
If all this sounds like way too much scratching for you, there will be relief in the form of an all 7" James Brown set from Stroller. His set with Jeremy Murphy at last years games was a highlight for me. He's a very entertaining DJ and a dedicated collector.
But the fun doesn't stop there.. Sunday at the Bierhaus will be a full day of DJ and producer showcases from some of the country's best beat makers, musicians and emcees.
This all might bring up images of alot of pasty, nerdy guys standing around staring at turntables, but there's always a surprisingly fun atmosphere at the games. Anyone with even a passing interest in DJ culture should find plenty to keep themselves entertained.
Saturday's Open Freestyle Battle Royal line up..
Chinch 33 (Germany)
DJ Blood 1 (UK/Swe)
Deceptakut (UK)
Grandeurs Of Delusion (UK)
Fidel Cutstro (UK)
Jimmy Penguin
Mikey Fingers
Tweek
Gondek
Ozz G
Cut Man Doo (POL)
Damien Chmielix (POL)
Moschops
Djackulate
Sunday's Producer Showcase line-up..
Melodica Deathship
T-Wok
MyNameIsJohn
Mustapha Monde
Rumbus Merrylegs
Rubble Digits
Dal Kas
Teknique
Deviant and Naive Ted
Chiwawa Studios
Noid The Droid
Laminator
Deviant - Shoes Not Not / Vain (Glorious)
And so with that our first featured record comes from the winner of last years CSG Open Freestyle Battle.. Deviant. He's a founding member of both the CSG collective and the turntablist band (if that's the right description) Vince McMahon. This limited red 7" from 2009 is turntable music in it's purest form. To quote the small print on the record itself.. "All music performed and produced by Deviant and Naive Ted using records, turntable, mixer, loop pedal, and software multi-tracker. No programming. No effects."
Sugar Billy - Super Duper Love pt1
Most will recognise this song from the Joss Stone cover from 2003. She sold quite a few records by taking classic soul tracks like "Super Duper Love" and turning them into a kind of modern pop-soul fusion. Her music wasn't bad, it was all just a bit too.. safe, especially when compared with the source material.
This 7" was taken from (Sugar) Billy Garner's first and only album from 1974 (also titled Super Duper Love). His earlier singles for the New Day imprint are serious collectors items. The Gangstarr sampled, break beat classic "I Got Some" seems to be his most sought after 45, often selling for over $500. Guess I'll have to be satisfied with my re-press then...
Marvin Holmes and the Uptights - Ooh Ooh The Dragon pt1
Singer, guitarist, and songwriter Marvin Holmes is a legend of the Oakland funk scene. In the mid to late 60's the Uptights were the guys to call if you were looking for a tight backing band for hire while in Oakland. They played with many of the greats of the time such as B.B. King, Etta James, Esther Phillips, Hugh Masakela and David Ruffin to name just a few. Holmes would also have his own songs covered and recorded by legends like Buddy Miles and Ike Turner.
In the 70's Holmes left the Uptights to form other bands Justice and The Funk Company . He released 2 albums with Justice for the Brown Door label that were modest successes, and in the late 80's and early 90's did some production work for another Bay Area legend.. Too Short!
Betty Davis - If I'm In Luck, I Might Get Picked Up
Betty Davis has plenty of what the kids would call Swag! Its a mixture of confidence, style, sex appeal, and a bad ass, take no shit attitude, thats both attractive and intimidating. She was Miles Davis' second wife for a brief time, but its said that the year she spent with him was incredibly influential on the trumpet legend. She introduced him to music by artists like Jimi Hendrix and Sly Stone, which would take his own music in a completely new direction. This influence can be heard clearly on Miles groundbreaking 1969 album Bitches Brew. Miles may have invented jazz fusion, but this probably wouldn't have been possible without Betty.
Her own music is mixture funk and rock with a heavy dose of the above mentioned swag. She didn't have the most dynamic vocal range but made up for it with sheer attitude and energy. She released three albums in the early 70's (a fourth was recorded but wasn't released until 2009)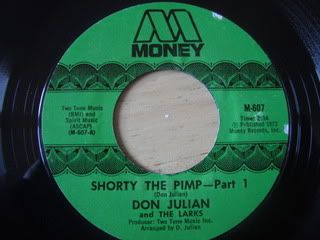 Don Julian and the Larks - Shorty The Pimp
Don Julian formed the Larks (originally the Meadowlarks) way back in 1952 while they were still in high school. Don was only 14 years of age when the group had their first hit "Heaven And Paradise" The line up of the meadowlarks changed often, only Don Julian would remain a constant member. The group released a string of singles for the Dootone label in the 50's which sold well in southern California. They are also credited as being the first integrated doo wop group.
During the early 70's the Larks recorded several singles and a very sought after album for the Money label. "Shorty the Pimp" was recorded for the soundtrack to a blaxploitation film of the same name, but the movie never saw a release and the soundtrack was shelved (it eventually got released in the 90's).
Jane's Addiction - Been Caught Stealing
This was a favorite of mine as a kid. It's not the type of thing I usually play so it's fun to drop it in sets every now and again and trip off people's reactions to it. I've always been of the opinion that a really good DJ set requires a couple curve-ball moments! Jane's Addiction were one of the first success stories of the early 90's "alternative" rock scene. The band formed in 1985. They went through several line up changes before recording their first album in 1988. "Been Caught Stealing" was the big hit from their second album "Ritual De Lo Habitual!" The band broke up shortly after its release.
They reformed several times for tours and went through more line up changes before eventually recording a third album "Strays", in 2003. They are currently working on new material for an album that's due a release this year.
Edan - Sagittarius Rapp
Picked this one up at an Edan show a couple years back. If you haven't seen the man live before I highly recommend you do so. He's quite possibly the best live act in Hip Hop. He's back in Ireland this month playing shows in Belfast, Dublin, and Galway. Hit up
www.choicecuts.ie
for info.
"Sagittarius Rapp" is a non album track that, as far as I know, is only available on this 7". The B side includes the sample source, Timothy McNealy's "Sagittarius Black", which is pretty rare in its original format.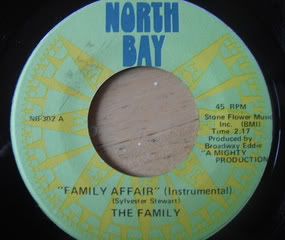 The Family - Family Affair
This energetic cover of the Sly and the Family Stone classic later appeared on the MFSB's 1973 self titled album. MFSB was a loose collection of Philadelphia session musicians that usually included Ronnie Baker (bass), Earl Young (drums), Norman Harris (guitar) Bobby Eli (guitar), and of course, the production team Gamble and Huff (although production on this song is credited to Broadway Eddie). Its pretty safe to say that at least a couple of these musicians were involved in the making of this record. This collection of artists would mold the up-tempo soul sound that would eventually be known as the Philly sound. They played on hundreds of songs by artists such as the O'Jays, the Spinners, Harold Melvin and the Bluenotes, Jerry Buttler, Teddy Pendergrass, and the Intruders. Later they became important in the evolution of Disco, bringing their unique touch to many classics of the genre.
In the late 70's many members left the group over money issues. Some went to Salsoul Records, where they formed the Salsoul Orchestra, others went on to become The Ritchie Family.
Shorty Long - Night Fo' Last
Shorty Long is a name that isn't often thrown around during discussions about the great artists of Tamala/Motown. He may not have had as many hits as some of his peers, but he definitely wasn't lacking in talent. The singer, songwriter, and multi-instrumentalist played piano, organ, drums, trumpet and harmonica. He was also one of the only Motown artists that was allowed to produce his own music.
He released several singles for the Motown subsidiary label Soul in the 60's scoring a couple minor hits before finally releasing his debut album in 1968. For whatever reason, Motown didn't seem to put as much time or money into Shorty's music as it's quality deserved. This seemed to frustrate label mate Marvin Gaye who once asked songwriting/production team Holland Dozier and Holland "Why are you going to produce me? Why don't you produce Shorty Long?"
Only a year after the release of his debut album, just as his music was beginning to get some much deserved attention, Shorty tragically died in a boating accident on the Detroit River. Stevie Wonder played harmonica at his burial.
Motown released a second album "The Prime Of Shorty Long" a couple months after his death.